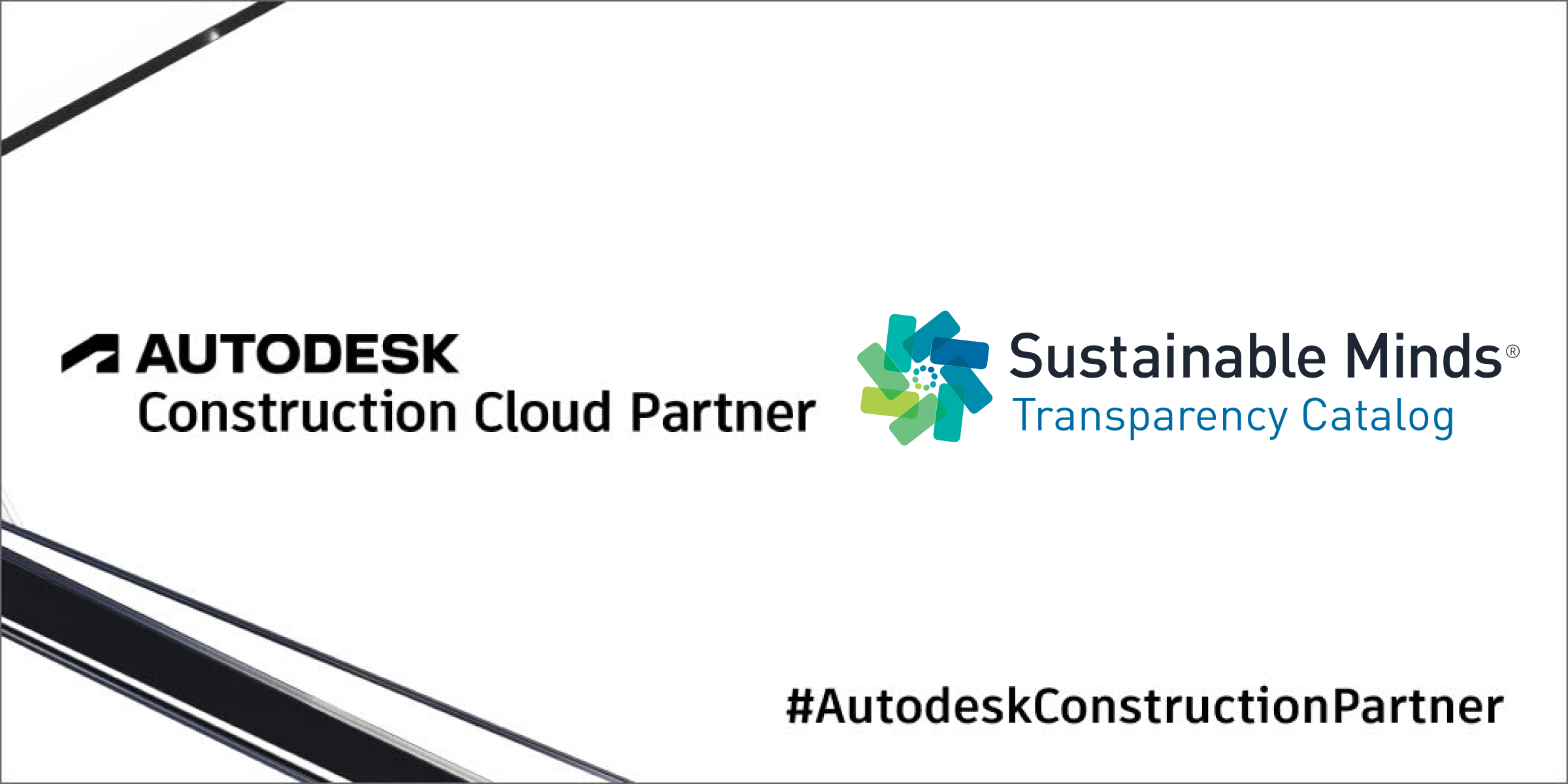 Transparency Catalog Now Available Directly within Autodesk Build & BIM 360
CAMBRIDGE (May 24, 2023) – (PR NEWSWIRE) – Sustainable Minds®, the only end-to-end product transparency solutions provider for building product manufacturers, today announced its integration with Autodesk Construction Cloud®, a portfolio of software and services that combines advanced technology, a builders network and predictive insights for construction teams. Users can now embed the innovative solution provider's Transparency Catalog™ within Autodesk® Build Insight or BIM 360® Project Home dashboards.
The Transparency Catalog is the most comprehensive, curated and continually updated source of high-performance building and construction products that meet carbon impact and human health goals. It currently contains over 2,080+ manufacturers and trade organizations with products and documentation in 27 MasterFormat® divisions and over 1,260+ sections. An average of twenty new manufacturers are added monthly.
Now, architects, engineers, construction companies and owners (AECOs) can immediately access the best resource for finding healthier, high-performance, and low-carbon products and materials directly within Autodesk Build and BIM 360. Project managers can find and identify the manufacturers investing in transparency documentation, environmental product declarations (EPDs) and material ingredient disclosures for products available in North America.
"We understand the critical importance of streamlined workflows for AECOs to meet performance requirements, and to achieve carbon and human health goals," said Terry Swack, Founder and CEO of Sustainable Minds. "With the Transparency Catalog and Autodesk Construction Cloud integration, we are making it easier for Autodesk Construction Cloud customers to find, understand, select and procure the right building materials and products to meet project goals."
This integration works with Transparency Catalog v4.0 and later this summer will include Project Builder & Library, which is currently in private beta. Project Builder & Library is the first end-to-end collaborative workflow solution to operationalize product selection and close the gaps in workflow, data, and tools between each stage – from design to specification, planning, building and management – revolutionizing the end-to-end process for teams.
"As it stands, the construction industry is currently a massive contributor to global carbon emissions and hazardous waste," said James Cook, director, partner integrations at Autodesk Construction Solutions. "Creating a more sustainable built environment starts with enabling owners, designers, and builders to select and source more environmentally friendly building materials. With the Transparency Catalog's integration with Autodesk Construction Cloud, customers can easily manage their important material decisions in the same interface where they regularly manage all other aspects of their projects."
Customers can utilize the integration immediately by adding the Transparency Catalog Partner Card to their Autodesk Build Insight or BIM 360 Project Home dashboard.
###
About Sustainable Minds
Sustainable Minds is the only end-to-end product transparency solutions provider for building product manufacturers today. The company provides technical services – life cycle assessment, material evaluation, carbon accounting; is an ISO 14025 PCR / EPD program operator committed to understandable and reliable reporting; and delivers innovative digital tools to get products into projects. The Transparency Catalog™, the leading source of building & construction products for high-performance, low-carbon buildings, makes it super easy for architects, engineers, construction companies and owners to collaboratively select, specify and procure greener and healthier products—and reward building product manufacturers for making them.
Autodesk, Autodesk Build, Autodesk Construction Cloud, and BIM 360 are registered trademarks or trademarks of Autodesk, Inc., in the USA and/or other countries. All other brand names, product names, or trademarks belong to their respective holders.
Contact: Amber Reid, Sustainable Minds | [email protected]
https://www.linkedin.com/company/sustainable-minds/
https://www.youtube.com/user/SustainableMinds
https://twitter.com/sustainablemnds
https://www.instagram.com/transparencycatalog/