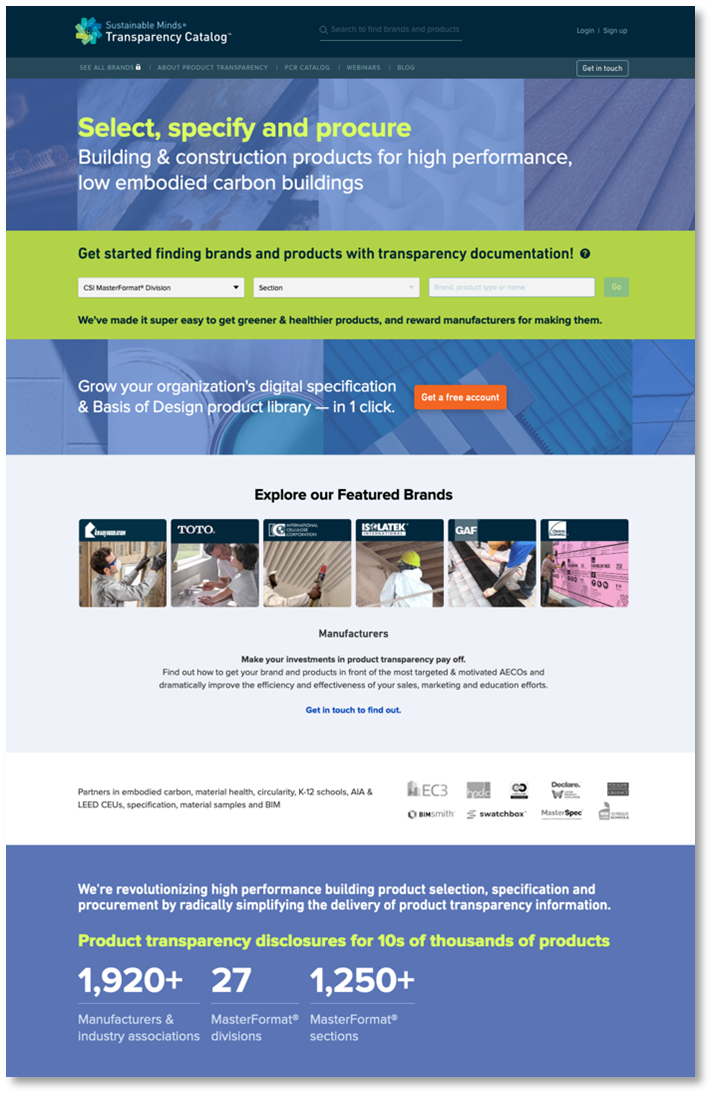 Instantly source building materials with the lowest embodied carbon impact in every MasterFormat® section to build your internal specification and Basis of Design digital libraries

BROOKLINE, MA (February 13, 2023) – (PR NEWSWIRE) – Sustainable Minds® – Sustainable Minds today announced the availability of Transparency Catalog v4.0, continuing the company's commitment to deliver easy to use and powerful tools. This release radically simplifies how architecture, engineering, construction professionals and owners (AECOs) can now select, specify and procure building & construction products for high performance, low embodied carbon buildings.
The urgency to transform the built environment is driving the need for more and better data, new workflows and tools. AECOs today face significant challenges.
It's difficult to make informed, comparative decisions using environmental product declarations (EPDs) and material ingredient disclosures. Increasing priority on low carbon materials for public and private procurement makes decision-making more complex.
There is no standardized way to research, select and share product options across teams during design, specification and preconstruction stages.
Internal digital libraries are getting built, but the content is static and maintenance is time-intensive.
"Our commitment to AECOs is to provide free access to the most comprehensive, curated and continually updated source of building & construction products for high performance, low embodied carbon buildings. Since 2016 we've been playing the long game building the only product data platform to aggregate all EPDs for products in North America. Now it's critical to make the information easy to use, not just easy to find. Organizations including Perkins&Will, CannonDesign, Stantec, Gilbane, Turner Construction, PCL Construction and so many more of all sizes are using the Transparency Catalog every day to save time, share and reuse knowledge, achieve climate & material goals, reduce costs and win business," said Terry Swack, Sustainable Minds founder & CEO.
"EC3 has been integrated with the Transparency Catalog since our initial launch in late 2019," said Stacy Smedley, Executive Director of Building Transparency. "Sustainable Minds uses our quintiles (best 20%, 40%...) to simplify and visually display the data to identify a product's embodied carbon relative to others in its category. We are very excited about the new 'filter by quintile' capability enables the building sector to easily make data driven low carbon material choices, aligning with our mission of free and open access tools and data."
"We build tools and databases in Excel. Being able to download Transparency Catalog search results in a .CSV file makes data entry quick and accurate for updating our spec and Basis of Design products – especially when we need at least three options per product for public projects," said Viagnehy Fernández AIA, CSI CDT, Materials & Specifications Coordinator, Mahlum. "During the later design phases our teams are simultaneously working on the specs and making updates to the design. Making sure the right communication happens between team members is important and challenging. Exporting products is extremely useful whichever direction the information is flowing to track, share and store with other project info," added Chris Brown AIA, LEED AP, Associate, Mahlum.
"The Transparency Catalog is our go-to destination for selecting products that meet our clients' goals. It distinguishes itself in its ability to help teams make decisions and recommend products. It centralizes answers to the questions we're asking: which products are made by companies prioritizing measurement and reporting impacts on health and the planet; have lower-than-average carbon emissions; have no harmful chemical ingredients; where's the documentation and product literature we need. Thank you for bringing robust, rigorous and accessible decision-making resources to the industry," said Claudia Mezey, Consultant, Built Ecology, WSP USA.
Sign up for a free Transparency Catalog account to export products and grow your organization's digital internal product libraries. Attend the webinars Feb 15 and 16 for manufacturers or AECOs to learn more!
About Sustainable Minds
Sustainable Minds is the only end-to-end product transparency solutions provider for design & construction today. The company provides technical services – life cycle assessment, material assessment, carbon accounting – is an ISO 14025 PCR / EPD program operator committed to understandable and reliable reporting; and delivers innovative digital tools to get products into projects. The Transparency Catalog™, the leading source of building & construction products for high performance low carbon buildings, makes it super easy to select, specify, and procure greener and healthier products—and reward building product manufacturers for making them. For more information: transparencycatalog.com and sustainableminds.com.
Contact: Amber Reid, Sustainable Minds | [email protected]
https://www.linkedin.com/company/sustainable-minds/
https://www.youtube.com/user/SustainableMinds
https://twitter.com/sustainablemnds
https://www.instagram.com/transparencycatalog/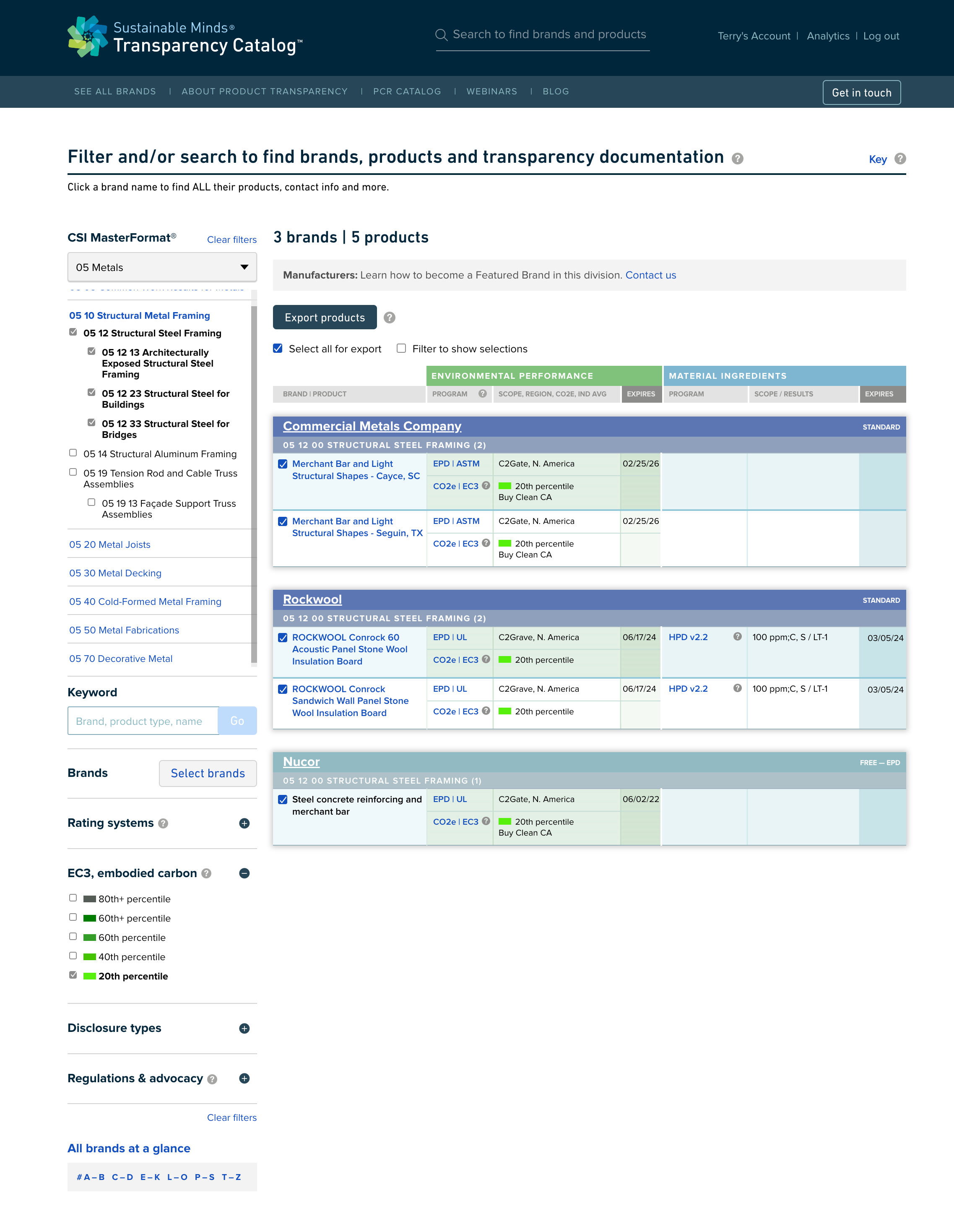 https://www.prnewswire.com/news-releases/sustainable-minds-announces-transparency-catalog-v4-0-to-accelerate-high-performance-low-carbon-construction-301745036.html?tc=eml_cleartime