Building materials trade associations have been taking the lead on telling the environmental performance and material health stories for their industries. Industry disclosures provide MFRs a best practice tool they otherwise may not be able to create on their own and establish benchmarks for product-specific comparisons.
Join us for an in-depth look at how NSI and Polycor worked with Sustainable Minds to credibly tell the story of natural stone, a beautiful and versatile, lower carbon, single ingredient building material that emits no VOCs.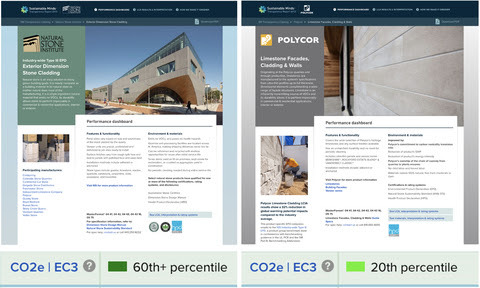 Join us to learn about
Why NSI developed 3 industry-average EPDs and 13 HPDs for a range of stone types; how membership was mobilized and key decisions made to make it easy to create optimized EPDs
Outcomes of having transparency documentation
How Polycor created 6 product-specific EPDs and 2 optimized EPDs that explain the lower embodied carbon impacts of limestone
Why NSI & Polycor chose Sustainable Minds as their program operator
Who should attend
Building professionals: Get an in-depth look at the extensive process of creating PCRs, LCAs and EPDs
Manufacturers: Learn how to leverage your industry-average EPD to create your product-specific, optimized EPDs for LEED
Industry associations: Learn how to get more visibility for your members with a Transparency Catalog industry subscription.
Select, specify & procure their products
The Natural Stone Institute is a trade association representing every aspect of the natural stone industry with membership exceeding 2,000 members in over 50 nations. It offers a wide array of technical and training resources, professional development opportunities, regulatory advocacy, and networking events.

Polycor is the world's leading natural stone manufacturer. We provide customers with centuries of stone expertise. Our vision is to establish new foundations of global leadership by setting the standard for excellence in sustainable natural stone. Our products are built to last so future generations can continue to fall in love with natural stone.