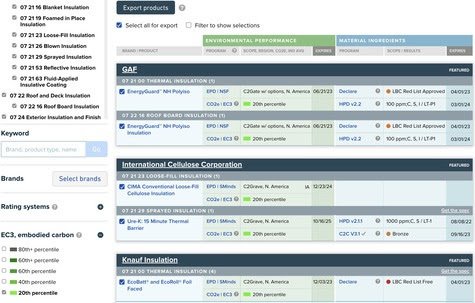 Since 2019, Building Transparency's EC3 tool has grown to become the building sector's go-to for evaluating the embodied carbon emissions of a construction project, enabling the specification & procurement of lower carbon options.
The EC3 tool uses building material quantities from construction estimates and/or BIM models and a robust database of digital, third-party verified environmental product declarations (EPDs). They have worked long and hard to search out and collect PDFs of EPDs and digitize them via machine reader and manual entry.
Now, it is up to program operators and MFRs to make sure EPDs get added or submitted. Join us for demos and to learn about:
1. How to add and update EPDs
MFRs with new EPDs or existing EPDs*
Program operators
2. The EC3 / Transparency Catalog™ integration
EC3 methodology and quintile results
How EPDs are synchronized
3. Finding & comparing materials in both tools
*MFRs with Transparency Catalog subscriptions – we make sure all your EPDs are in the EC3 tool and accurately presented.