As the leading manufacturer of coil and extrusion metal coatings in the world, Sherwin-Williams Coil Coating (formerly Valspar) brings a proud history of innovation to the coatings industry. With an enduring commitment to durability, superior customer service and an ever-expanding palette of color, our metal paints offer unlimited design freedom to countless industries, projects, and locations.
Explore our products and feel free to contact us for more information.
Let us know when you select or specify any of these products. Anything you can share about which products and why helps us help you achieve our collective product transparency goals.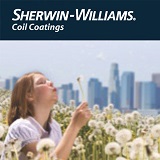 ENVIRONMENTAL PERFORMANCE

MATERIAL INGREDIENTS

Brand | Product

Program

Scope, Region, CO2E, Ind Avg

Expires

Program

Scope | Results

Expires
As one of the leading manufacturers of coating products in the world, we are setting an example for the entire industry. Sherwin-Williams Coil Coating is always working to incorporate the best practices and materials into our coatings. Sherwin-Williams is dedicated to driving the industry forward, through pioneering research and developing products for emerging needs that perform to the highest standards.

Note: Expired disclosures can be used in a submittal package if the product was purchased during the validity period.
Broken links or other feedback? Let us know. Contact support >