CAFCO® 400
CAFCO 400 AC
The CAFCO® 400 series products are medium density, Wet Mix Spray-Applied Fire Resistive Materials designed to provide fire protection for structural steel where higher levels of physical abuse or traffic may be anticipated. CAFCO 400 series products are designed to provide protection in virtually any environment where a medium density material is specified.
The thermal performance advantages of CAFCO 400 series products result in reduced installed costs and provide industry leading physical performance and application efficiencies that are unsurpassed.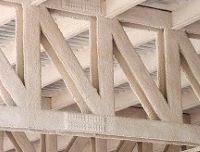 Performance dashboard
Features & functionality
CAFCO 400: Portland Cement based medium density product with Industry leading physical performance characteristics.
CAFCO 400 AC: Gypsum Plaster based formulation designed to increase productivity while maintaining robust physical performance characteristics.
Visit Isolatek for more product information:
Environment & materials
Improved by:
Tested to meet (CDPH) Standard Method v1.1 & EPA Method 24 for VOC's
Post-consumer recycled content used
Certifications, rating systems & disclosures:
Declare, Red List Free
Health Product Declaration
Cellulosic – ANSI/UL263 (ASTM E119) – Fire Tests of Building Construction and Materials
UL Classification Mark